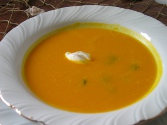 For 4 servings we need:
1 small red onion
1 or 2 tablespoons oil
1 medium sized pumpkin
2 cups vegetable soup ( you can use water instead)
Roasted pumpkin seeds (optional)
Sour cream ( optional)
Salt, parsley,  ¼ teaspoon of Kurkuma, garlic husk
Saute onion  in oil until golden.
Add pieces of pumpkin (peeled) and simmer for 2-3 minutes.
Add vegetable soup or water and salt. Cook for 20- 30 minutes.
At the end add  kurkuma, parsley and chopped garlic. Put into a blender.
Garnish with roasted pumpkin seeds and sour cream.
This is a delicious cream soup for colder autumn days.