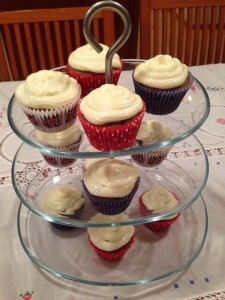 Ingredients:
Base
125 g glutenfree flour  ( Schaer mix C )
100 g glutenfree chocolate spread
75 g sugar
1 teaspoon vanilla extract
1 teaspoon baking powder
1 pinch of salt
1 cup chocolate chips or chunks ( I cut 150 g of dark chocolate into chunks if I don't have chips 😉
125 g butter
4 eggs
Cream Cheese Frosting
175 g cream cheese
50 g butter
350 g sifted confectionars sugar
1 teaspoon vanilla extract
Directions:
Combine butter and chocolate spread till light and fluffy. Add sugar, vanilla and salt.
Add eggs one at the time and mix about a minute after each added egg.
Add flour with baking powder to this mixture and at the end chocolate chips or chunks.
Put mixture into the muffins tray with paper cups and bake at 180 C  for 20 minutes.
For frosting combine cream cheese and butter till creamy,  add sugar and vanilla.
Let it rest for an hour in the fridge before using.
Cupcakes are very very sweet, but delicious.